How to get to the story of your brand? 7 simple steps. See the picture below.
Summarize this in a oneliner. Note from great video by Donald Miller https://www.youtube.com/watch?v=HFergI0UOAs
identity your customers' problem. open with their problem, not with yourself. what is their problem you are going to solve?
'most business struggle with… "you know a lot of people ….'
be specific, do not be vague, no jargon. do keep it simple and to the point
make sure it is a pain point 'that's me, I have that'
soundbite: make it shore
Most businesses struggle to talk about what they offer, …
Pet owners are concerned about what their pets are really eating, …
Most people can't get their head around their future, …
Nobody likes to haggle with a car salesman, …
explain your plan to help them. here is what we do that solves your problem. 'I help them… ' ' we have he product'
make it feel like a new idea
make it understandable
make it brief
… we have a process that helps them clarify their message, …
… so we source our pet food from trusted, local vendors, …
… so we created a financial map that puts all your info on a weekly dashboard, …
… so we removed the salesman entirely. you can choose and test drive a car hassle-free, …
successful ending to the story. happy ending
make it the 'controlling idea' of your business. the motivator of the company
make it about the benefit, make it tangible
makke it something they want
make it brief
… so their companies start growing again.
… which ensures your pet stays happy and healthy.
… giving your peace of mind about your finances.
… so you have a peaceful experience getting the car you want.
MEMORIZE IT, follow by a call to action.
Practice with strangers, tell them your oneliner and ask them what they think you do.
Source: storybrand.com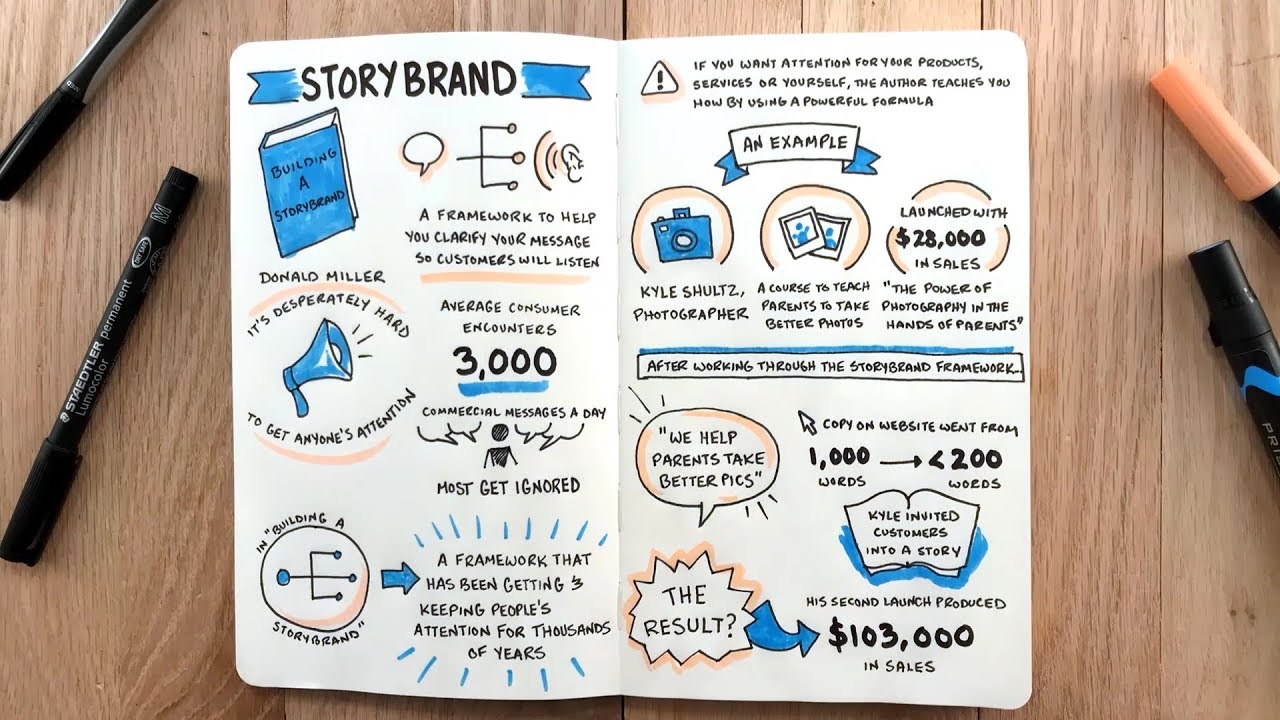 "Building a Storybrand" by Donald Miller – Storytelling – BOOK SUMMARY
Produced by Board Studios Inc (http://boardstudios.com).Find sketches here: http://www.bookvideoclub.com/blog(Sign up to our email list)–Introduction–In "B…